HOT PARANORMAL SPOOKED TV NEWS:
Syfy Channel, 31 Days Of Halloween Special Event, a Booth Brothers Twin Feature.
The world television premiere of '
The Possessed
' with '
Children Of The Grave
'.
October 8th, 2009 - 9/8c only on Syfy (NBC Universal).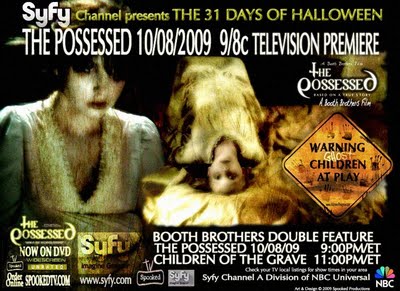 Four hours of pure adrenaline & fear!
For Immediate Release: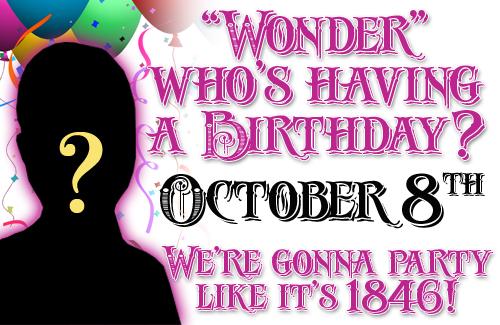 "She was born October 8, 1846.
She died July 5, 1865.
She returned October 8, 2009!"
Happy Birthday Mary Roff!
Spooked Television and Syfy Channel/NBC Universal was proud to announce the television premiere of '
The Possessed
'.
This spooky paranormal documentary by the Booth Brothers (
Spooked
,
Children of the Grave
) premiered on the Syfy channel the same day as the birthday of the film's true life character, Mary Roff.
Neither the network or the filmmakers coincided these dates.
Syfy's air date for '
The Possessed
' falling on the same day as Mary's birthday was strictly coincidental, or was it?
"
The Possessed
"
Syfy
Television Premiere, October 8th 9/8c 31 Days Of Halloween Special Event 120 minutes, paranormal documentary.
'
The Possessed
' is a paranormal expedition into the haunted world of possession.
True events include the chilling story,'The Watseka Wonder'(1877), America's first documented possession of a 13 yr old girl by spirits of the insane dead!
Produced and Directed by the Booth Brothers.
Distributed by Spooked Television Releasing, Syfy Channel/NBC Universal and Co-Produced by Keith Age.
Cast includes; Louisville's own Keith Age, Rick Hayes, Steven La Chance, Denice and Michael Jones, Troy Taylor, Rosemary Ellen Guiley, Juli Velazquez, James Long and John Zaffis.
To celebrate Keith Age and The Louisville Ghost Hunters Society had a birthday party!
The public was welcome to attend!
The celebration was at the Sawyer-Hayes Community Center located on the grounds of the Old Central State Insane Asylum, E.P. Tom Sawyer State Park,
2201 Lakeland Road - Louisville, Kentucky 40223.
Cast members Keith Age and Bishop James Long were there.
The Possessed
was featured on a big screen.
SPOOKED TELEVISION
RELEASE
DVD Collection :
Spooked: The Ghosts of Waverly Hills Sanatorium

Archives :